Track Replacement
Customer Issue: Mrs. Reed's husband had accidentally knocked a piece of lawn equipment against the side of the garage door frame, and now it moved slower.
Our Solution: Upon looking at Mrs. Reed's garage door components, we determined that one of the tracks had been damaged by the lawn equipment. This had been causing the door to struggle to slide over it. Our technicians detached the springs and cable once the tension had been released to uninstall the door briefly. This way, we could easily replace the broken track with a new one.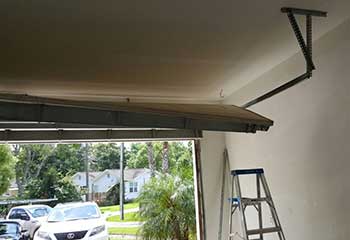 Garage Door Off Track
Customer Issue: Due to bending in the tracks, the garage door got stuck.
Our Solution: Examining the track made it immediately obvious that the bending was the cause of the problem. We secured the overhead door with a ladder and then went to work repairing the misshapen garage door tracks. Some hammering work and reinsertion of the rollers and everything went back to normal. We performed some functionality tests just in case, to ensure the tracks wouldn't pose any other issues.
Wayne Fricialli
- Bloomington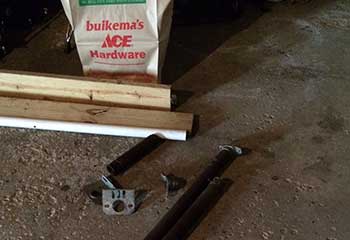 Broken Spring Replacement
Customer Issue: The torsion garage door spring broke and the panels wouldn't move up when the customer needed to get his car out.
Our Solution: We got to Mr. Truman's house less than two hours after he called. The first step was to secure the garage door in the open position, which we did using ladders. We removed what was left of the broken spring and then, after checking the cables and panels for damage, replaced it with a new unit. Some testing and the door was good to go again.