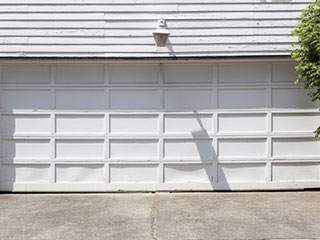 Often chosen for their sleek, elegant look, steel garage doors offer many benefits to the home. They require very little maintenance, they retain their color well, and they fit with most styles and types of homes. However, they can also be more difficult to repair than other types of doors, as the material is not as forgiving as others. That is why our experts are dedicated to repairing your steel door. Garage Door Repair Minneapolis offers all types of steel door services, including repair and installation. If you're in need of services for steel garage doors near St. Paul, know that you have us to turn to.
Broken and Bent Panels
The most common reason why homeowners need steel garage door repair is panel damage. Steel panels are prone to bending if they are backed into, or if they collide with a vehicle or other large object while closing. Minor bending can often be corrected and the door can continue to be used without the need for replacing panels, but more serious damages may necessitate replacements. A bent garage door panel may prevent the door from opening or closing properly, or cause it to malfunction entirely. The service team at Garage Door Repair Minneapolis is able to assess the damage and help you find the best panel repair solution. Sometimes replacing the steel panels is required. Other times a little hammer work is all it takes.
The Nearest Steel Garage Door Repair Company
Steel doors have special needs not observed in other types of doors. They may require certain types of repairs that other overhead door systems do not. Minor repairs done as needed are crucial to the longevity of your door. Malfunctions and small errors can quickly escalate to be much more problematic. Garage Door Repair Minneapolis recommends that you act quickly and seek professional services as soon as you find a problem. Getting things fixed quickly is a great way to minimize the damage and ensure your garage door lasts.
Some Necessary Maintenance
Low maintenance steel garage doors give you a lot of freedom. You can use your door for a long time with minimal hassle. However, while they do not require a lot of care, steel garage doors do require some very necessary actions every now and then. Our experts are able to help you perform the necessary maintenance on your door, as well as perform safety checks. Having this done regularly ensures that you can keep using your system for longer without problems. If you're close to the twin cities area, you have Garage Door Repair Minneapolis to call on. For maintenance, broken spring repair, or for any other service need.
Garage Door Repair Services Near Minneapolis
Contacting us for help is always a good idea. Whether you live in Saint Paul and need same day garage door epair services or you're looking to buy a new system. You can get a free estimate on a new garage door, and consult with a nearby pro on which type and model will work best. Get in touch with us any day, Sunday through Saturday, for emergency repairs, guidance or advice.