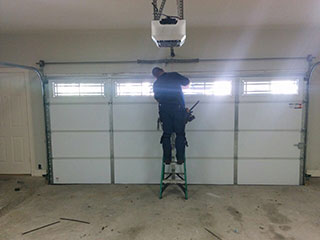 Looking at garage doors, you might think that nothing that simple looking could be complicated. What simple lives they lead, just repeatedly moving up and down with every press of your controller or flick of the door switch. That is until you see them not moving despite your persistent pressing on the open and close button. This is the part where you realize that they are not the simple fixtures that you thought they were. This is the reason why it is necessary for every homeowner to perform a little bit of maintenance every once in a while. Doing such could ensure the continuous proper function of the doors as well as the garage door parts. And if they could not be bothered doing the same for the lack of free time, there are always garage door maintenance service companies that could do it for them.
Maintaining Garage Doors in Good Condition
If you don't feel like wasting a warm sunny day on garage door maintenance, leave the work to us. Our company has long-term experience with doors and openers of all types and brands. The work begins with thorough check of all components from the bottom seal to the motor. Count on us to fix damaged parts like bent track and to replace worn ones on the spot. We leave the panels spotlessly clean and lubricate all moving metal parts including the torsion spring. If our tests reveal inaccurately set opener travel limits and force, we'll adjust them properly. Let us keep your automatic door in perfect condition.
Your Local Experts For Maintenance & Repairs
You would not want to wake up in the middle of the night disturbed by mischievous animals from nowhere, or worse, by lawless elements of society just because you who were too busy in keeping your doors in good and able-to-keep-you-safe condition. Having too many things to do is simply not a good reason to compromise family safety. This is why you have garage door service companies like ours. Our experts at Garage Door Repair Minneapolis are very much skilled in keeping your doors maintained in the best possible so that you do not have to worry about your home and privacy being invaded unknowingly. More than that Garage Door Repair Minneapolis also offers emergency garage door service as well as installation of new and replacement of your old garage door and door parts. We offer the best options at very reasonable prices, good deals that you wouldn't want to pass on. All you have to do to avail of such services is to call us and you will be provided with the best service only the best garage door company could provide a customer.
We also offer:
Garage Door Tune Up Services
Emergency Broken Spring Replacement
New Garage Door Installation