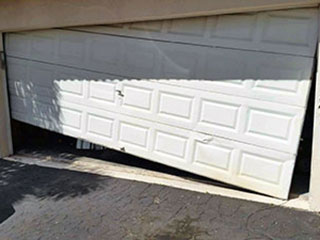 Our experts have many years of experience in repairing all kinds of damage on garage doors. Springs, tracks, and openers are among the most common parts to fail or start failing, but we can help you no matter what part of your door is causing trouble. A broken garage door is a nuisance. Do not let it stop you—we offer same day service to have you using your door again as fast as possible.
Let Us Take Care of the Springs
A broken garage spring poses a serious danger to anyone using the door, and to your vehicle and other possessions kept in the garage. These parts are subject to immense tension, and they can cause injury or property damage if not handled correctly. If yours is broken, you will not be able to open your door, and we highly recommend that you do not attempt to force it. Let us take care of it, and you will be using your door again in no time.
We Get You Back on Track
The tracks are the unsung heroes of the garage door setup. They guide your door as it opens and closes. If your garage door is off its track, it may be impossible to open or close it properly, or it may damage your property. Our broken garage door repair services include the tracks. Our experts know how to deal with any make, model and type of track and door, and can do both repairs and replacements as needed.
Broken Garage Door Repair to Suit You
Aside from springs and tracks, the opener is another part of the garage door setup which commonly malfunctions. This is the backbone of the automatic function of your door, and it consists of a number of intricate parts. If just one of them fails, the opener may stop working entirely. Our professionals repair openers and all other parts of the door. We tailor our broken garage door repair solutions to suit your situation.
Regardless of the malfunction you are experiencing and the part it stems from, our team is ready to help you. Springs, tracks, and openers are among the most commonly malfunctioning parts—but our expertise ranges across the whole door and all of its components. Trust us whenever you face any problems. Contact Garage Door Repair Minneapolis today!