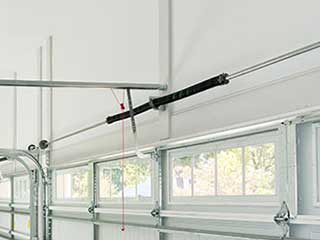 If you were wondering how your heavy garage door lifts up and down every day, the answer is not just the automatic opener. Sure, the opener is working hard and is very convenient – but the real troopers are the springs.
How Do Garage Door Springs Work
Loaded with tension, these parts counterbalance the weight of the door. This way they support the weight and hold the door up. However, you can imagine this action comes with a cost – wear. Every type, be it extension or torsion spring, has a limited cycle life. Good springs have 9000 -11000 cycles, and every round of opening and closing the door is one cycle.
What Could Go Wrong?
There are mainly two common malfunctions:
Door Out of Balance – Usually, if one side of the door is hanging it means one of the springs is out of balance. This can be fixed by adjusting the tension.
Slow or Fast Movement – this too is a tension problem that can be fixed with proper adjusting of the tension. Either loosing or tightening according to the specific problem, and of course to the other spring.
Broken Springs – one of the most common garage door malfunctions is a broken spring. This can't be fixed, and since there is nothing to counterbalance the door's weight with, the door wouldn't move. Replacing springs is extremely risky, and there are too many accident stories to fall into this category. This is why it is highly advised to refrain from DIY at all cost.
Who Are You Going to Call?
If your spring is broken or is showing signs of wear, call our experts at Garage Door Repair Minneapolis. We offer same day service for emergencies, and a broken spring definitely counts as one! Don't hesitate or take any unnecessary risks – let us handle it for you!
Couldn't find what you're looking for? We also offer:
Roll up Garage Door Maintenance
Genie & Liftmaster Opener Services
Torsion & Extension Spring Replacement