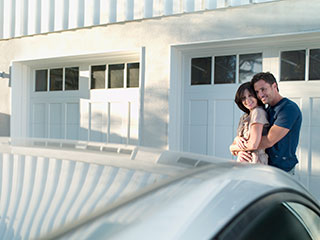 Valentine's Day can be a hard holiday to crack, especially after many years of marriage. When it comes to the gift, do you go big, or keep things small and sentimental? Either way you play it, the most important thing is that you give something that has taken you a lot of time and effort to prepare. This is surely the way to anyone's heart. Here we want to give you a few reasons why having a new automatic garage door opener might make the perfect gift for your husband or wife this valentine's day. These door openers can be purchased and installed by professionals, so you don't have to worry about having to set it up yourself.
A Gift That Keeps On Giving
The best part of giving a garage door upgrade as a gift is the difference it will make to you and your partner's daily life. Every time either of you dodges the rain by not having to leave the car, you'll be reminded of this blissful gift. An automatic garage opener can be activated by a remote controller, clicker or smart mobile device. If you both drive, it will be hard to find any other home improvement product that will be able to deliver such a boost in convenience on a daily basis. If you need any repairs, it is best to have the sorted right away. The professional that comes to do them can also advise on what type of opener would suit our door most.
Improve Safety Forever
Not only are openers incredibly impressive and helpful, they are great for safety too. Modern openers all come with sensors that prevent the door from causing any damage to objects or people. If any object gets too close, the doors will stop and possibly reverse as needed. You won't exactly be able to wrap the garage door opener, unless you wrap it boxed and have it installed later. Alternatively if you think you can prevent your partner from entering the garage for a few days, you could have it installed close to the day you want to present it. Many professional garage door companies will make it very easy to book installation appointments to suit your needs.